Broadcast Devices Inc. participates in 50th Anniversary Celebration of the Empire State Building's Alford Master Antenna system at October 2015 AES Convention!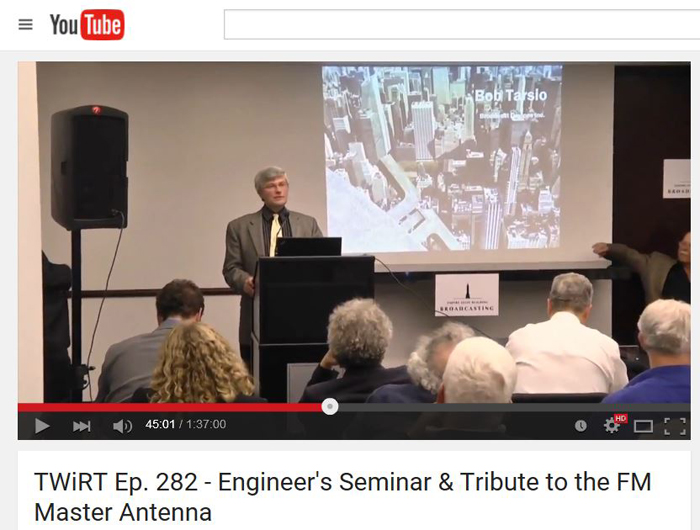 A recent edition of This Week in Radio Tech dedicated an entire program to the celebration of the 50th Anniversary of the installation of the Alford Master FM Antenna System at the Empire State Building in New York City in 1965. Broadcast Devices, Inc. is proud to have participated in this milestone event, which took place during the October 2015 Audio Engineering Society Convention in New York.
Parts of the pioneering and innovative Alford system are still in use today as an auxiliary antenna system. We encourage you to relax and watch this informative video, which includes presentations and discussions by Tom Silliman, president of Electronics Research, Inc.; Bob Tarsio, president of Broadcast Devices, Inc.; Herb Squire, a legendary New York City broadcast engineer; and Frank Foti of The Telos Alliance.
Bob Tarsio, Herb Squire and Frank Foti were all chief engineers in New York City at the time the Alford system was in operation and share their experiences as engineers dealing with the Alford system, the Empire State Building and the family of broadcast engineers through the years. Tom Silliman of ERI gives an excellent presentation and an insightful explanation of the inner workings of the Alford system, which were revolutionary at the time. ERI was in charge of maintenance of the previous Alford system and the supplier of the new system that eventually replaced the Alford combiner. BDI president Bob Tarsio was the chairman of the Empire State Building Master FM technical committee and shares his experiences along with Herb Squire and Frank Foti.

Click on the link to watch this enlightening and entertaining presentation: http://youtu.be/TrEMfzEcBek